ALASKA RIVER FISHING IN THE FALL
Alaska river fishing the remote streams of Kodiak is a tranquil and unique experience. From the roar of a float plane engine to the screaming of a stressed reel, these are just a few of the sounds of freshwater fishing on Kodiak Island. Mostly you'll hear the sound of the river running by and notice the stress fade away in this breathtaking environment.
Few places in the world can match the number of returning fish to the rivers and streams of Kodiak Island. From spin cast fishing to trying your luck fly fishing, Kodiak Legends Lodge provides all the gear you will need for a world-class Alaska river fishing experience (rods & reels, waders and tackle). Whether you are an avid fisher or just starting out, our expert guides can help you make the most out of your Kodiak Alaska river fishing adventure!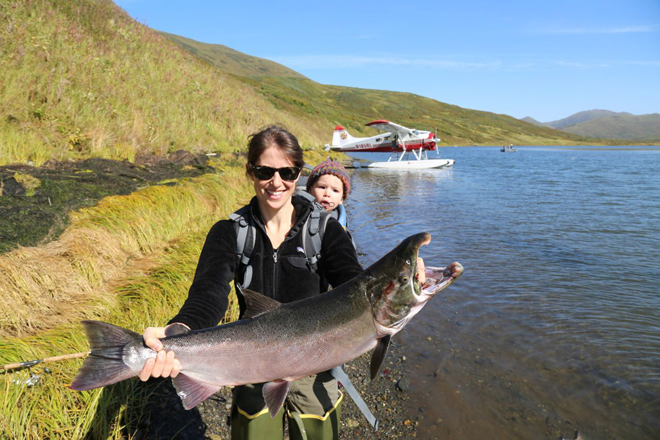 Guests opting to add on fly-out trips to fisheries like the Karluk Lagoon or Lower Dog on Olga Bay should notify us when you book your dates so we can coordinate your float plane charter reservation and inform you of the cost. We can add on this portion later as well, but the outcome will depend on flight availability so it's best to let us know as far in advance as possible.
A couple days in the freshwater in the fall paired with a few days in the saltwater is a great combination. You'll enjoy peace and tranquility while also filling some fish boxes for the family.
KODIAK FRESHWATER FISHING AT ITS FINEST
Kodiak fall river fishing is special because of the sheer variety of species we target, including coho, Dolly Varden, and rainbow trout. The island's remote streams and rivers provide anglers with the rare opportunity to catch multiple salmon species in the same day. Silver salmon fishing in the fall is one of the many highlights in our fishing program. Silvers on Kodiak Island provide incredible fun with their airborne tactics, plus they're known to be exceptionally large, averaging around 10- to 12 pounds for hens and 12- to 15 pounds for bucks, with a few behemoths that top the scales over 18 pounds! We fish in the rivers and streams with both conventional or fly gear, depending on the preferences of our guests.
RIVERS
The Karluk River is Kodiak's largest and most productive river system. Located just 10 minutes away by float plane, the 22-mile Karluk is well-known for its world-class salmon and steelhead runs, and ranks among the best Kodiak steelhead fishing rivers. The shallow waters of the Karluk make this a favorite among fisherman for its ease of wading and fish ability. Few other rivers have the diversity and productivity of the Karluk, which has runs of coho and sockeye salmon, as well as the second largest steelhead run in all of Alaska. Add in resident Dolly Varden and rainbow trout, and it's easy to see how the Karluk is a river fisherman's dream. In addition to the Karluk, we primarily fish Lower Dog Salmon. These rivers are easy to navigate and present incredible opportunities to catch big fish in large numbers. Near heart-stopping surface strikes from 15-plus-pound silvers are not uncommon on these unspoiled waters.
Kodiak's fall river fishing is a special treat because of the sheer numbers of different species you can target. The island's remote streams and rivers provide anglers with the rare opportunity to catch multiple salmon species in the same day.
ALASKA RIVER FISHING EQUIPMENT
Kodiak Legends Lodge is fully equipped with quality spin and fly fishing rods and reels, waders, wading boots and fly fishing gear (all of which we provide at no additional cost). Our goal is to provide each and every one of our guests with the ultimate experience. Have no worries, we have the gear you'll need for your Kodiak river fishing adventure!
If you would like to bring your own fly rig, below are recommendations from our fly fishing guides.
Recommended Equipment:
Single Handed Rods: 6- to 9 weights
Lines: Floating, Sink Tip, Full Sinking (300 grain)
Tippet: 6- to 20-pound test
Flies: we stock a wide variety of flies to choose from. If you would like to bring your own flies, our guides can send you their recommendations before your arrival.
Please feel free to contact us at info@kodiaklegendslodge.com with any gear-related questions you have, and we will respond accordingly.
SEASONS
Coho (Silver) Salmon
Silvers start moving into the rivers in late August and run through September. Coho are known to be extremely acrobatic. Their average sizes are 10-to 15 pounds at this point in the season.
Rainbow and Dolly Varden
Rainbow and dollies are available from July through September. Their average size is 3- to 6 pounds. They are fun to catch on fly rods while targeting silvers as well.
Sockeye (Red) Salmon 
Sockeye are available from June through the beginning of August. Their average sizes are 5- to 8 pounds.
DAILY ROUTINES
Since we want you to relax while on your freshwater fishing trip on Kodiak Island, we do not follow a strict schedule. We are flexible and work with you to completely customize your Alaska river fishing experience.
Every night, our head guide or lodge manager is happy to discuss the next day's possible activity options based on your wishes. We take your personal interests, weather, and fishing season into consideration in order to give you the best recommendations for what to do.
Ready to book your trip to Kodiak Island? Schedule a date, and pack your bags. Before you know it, you will be catching all the Alaskan freshwater fish you can dream of!