KODIAK LEGENDS LODGE: FISH THE PROTECTED WATERS OF UYAK BAY FOR SOME OF THE BEST SALTWATER FISHING IN ALL OF ALASKA
Kodiak Legends Lodge sits on the shores of Uyak Bay, the next-level saltwater fishery that lies on the northwestern coast of Kodiak Island. Uyak Bay is known for its abundant marine wildlife—including whales, seals, otters, waterfowl, and most importantly, HEALTHY FISH POPULATIONS. Kodiak Legends Lodge symbolizes luxury fishing lodges in Alaska—complete with welcoming accommodations, 5-star dining, outstanding fishing, expert captains, and quality equipment. We set the scene for an incredible life experience with touches of comfort and class along the way.
KODIAK SALTWATER FISHING
Saltwater fishing opportunities abound at Kodiak Legends Lodge. Our 32-foot heated cabin boats (with bathroom on board) take you a short ride away in Uyak Bay where you can catch salmon, halibut, lingcod, yelloweye, and many kinds of rockfish. It's common for our guests to reel up more than 20 halibut each, and 100+ pounders are not infrequent! In recent years we've seen a nice recovery of kings in the area with numbers and size of fish. Plan your trip for June for the best chance to fish for Chinook, plus you'll experience excellent halibut and bottom fishing at that time that persists all season long.
A trip to our Alaska fishing lodge in Larsen Bay on Kodiak Island is the perfect combination of fishing, adventure, relaxation, and quality time with friends and family. We welcome all angling skill levels. Schedule a stay at our luxury fishing lodge, and get ready for the ultimate Alaska fishing trip to Kodiak!
MORE SALTWATER FISHING
Directly in front of Kodiak Legends Lodge lies Uyak Bay. Uyak Bay is known for its abundant marine wildlife, including whales, seals, otters, waterfowl, and most importantly, BIG fish. Depending upon the time of year, you can catch all five species of salmon, as well as halibut, lingcod, yelloweye, and many different species of rockfish. It is common to catch more than five different species of game fish in a day! From LARGE halibut to aggressive coho (silver) salmon, you will love our saltwater fishing.
For fishers both young and old, a saltwater fishing vacation from Kodiak Legends Lodge will surely be one for the books. In addition to a beautiful bay with plenty of marine life, your Alaskan saltwater fishing trip also includes all the gear you need to fish, direction from our experienced guides, lodging accommodations, and delicious meals.
Lodging and Amenities that Redefine
"Roughing It"
Kodiak Legends Lodge rests right on the shoreline of Uyak Bay, surrounded by vibrant green hills and mountains. The main lodge has over 5,000 square feet of living space with five suites, a large entertainment room as well as the main dining room and kitchen. You will enjoy gourmet meals throughout your stay prepared by our trained chef. Additionally we have VIP cabins with private bathrooms available for guests to stay.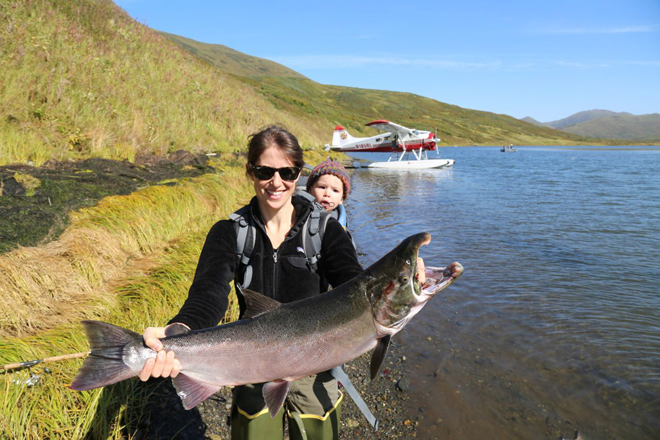 LEGENDARY FISH CARE IN LARSEN BAY
Article by Fish Alaska Magazine Publisher Melissa Norris
I remembered how bountiful the fishing was in Larsen Bay from a previous trip to Kodiak Island more than a decade ago. I caught the biggest silver I've ever held in Uyak Bay, where the city of Larsen Bay lies, plus a bunch of other tremendous fish. What I remembered most about Uyak Bay, beyond abundant fish stocks and that big coho, is that the plethora of fishable water is predominantly protected from wind by the area's mountainous topography, hence calmer seas. So, when Kodiak Legends Lodge manager Chad Elmer shared that they'd seen a turnaround in their king salmon fishing…
EXPLORE LIKE YOU NEVER HAVE BEFORE
The Kodiak Archipelago contains a rich variety of wildlife which includes massive Kodiak brown bears, as well as Sitka Blacktail deer, sea lions, sea otters, several types of whales, eagles, a multitude of bird species, and more. We will commonly view wildlife and sealife as part of our daily routine here at Kodiak Legends Lodge.